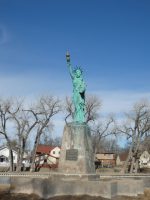 Grand Island is a city in and the county seat of Hall County, Nebraska, United States.
Population
:
50,550 (2013)
This sister is located within Pier Park on the shore of Pier Lake, just off Locust St.  It is mounted atop a stone pedestal along the shore of the park lake she is surrounded by an eleven point star planter.  A story from The Grand Island Independent contained the following information:
Gordon Bainbridge was a 9-year-old Boy Scout in 1950, one of many of Troop 119 who pulled on the ropes to set the statue into place.

"It was a fun time to be a kid," he said Tuesday remembering his childhood in Grand Island, including his time in the scouts. "It was just a very nice memory for me."

Bainbridge was one of the first to donate funds toward the restoration of the statue.

"I'd like to see it back the way it was," he said.

The Grand Island version of the Statue of Liberty has faced some tough weather in her 63 years, including the 1980 tornado that felled a tree on top of the statue. Her crown is missing its points and her outstretched arm is bent and leaning.

"We'd like to see her restored to look as good as the day it was erected," said Don Deitemeyer with the Hall County Historical Society. The fund-raising effort is already halfway to its $5,000 goal.
A follow up story from July 20, 2013's Independent announces its return to public viewing:
The statue returned to its base on the southwest bank of Pier Lake on July 10 after a two-week hiatus.

Don Deitemeyer, vice president of the Hall County Historical Society, initially told the city's Parks and Recreation Department that the project could take as long as a year because of the high price tag.

But funding didn't end up being an issue. The Boy Scouts were able to raise the $5,000 required for the project within 48 hours.
from US NEWS article on the renovation of the Grand Island NE Liberty Sister:  https://www.usnews.com/news/best-states/nebraska/articles/2017-04-03/replica-of-statue-of-liberty-to-be-installed-in-lincoln
We are always interested in hearing your stories and seeing your new and historical pictures of the sisters.  If you have a story to share or some images related to our Lady Liberty Sister please use our online form to submit your data.  We appreciate your assistance in keeping this site as complete and up to date as possible.