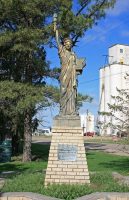 Walsh is a Statutory Town in Baca County, Colorado, United States. The population was 546 at the 2010 census, down from 723 at the 2000 census.
Population: 527 (2013)
Zip code: 81090
This sister sits within an eleven point base nestled in a small, tree filled park just off US Highway 160.  We have not visited her and need photos and stories from the site.  If you would like to submit photos or stories please use our online form.