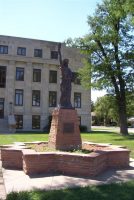 Garden City is a city in and the county seat of Finney County, Kansas, United States. As of the 2010 census, the city population was 26,658.
Population: 26,966 (2013)
Elevation: 865 m
She sits within an eleven point star planter with a five foot pedestal base.  She graces the main entrance to the Finney County Court House.
We have not visited with this sister and we are in need of images and/or stories related to her.  If you can provide photos and/or stories please use our online form to submit your information.  We appreciate any assistance.