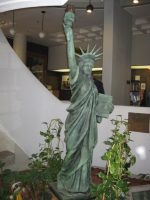 Lawrence is a city in Essex County, Massachusetts, United States, on the Merrimack River. As of the 2010 census, the city had a population of 76,377, which had risen to an estimated 78,197 as of 2014.
Population: 77,657 (2013)
This replica was given to the city by the North Essex Council of the BSA in celebration of the council's 25th anniversary.  She is located inside the Lawrence Public Library in the main lobby.
We are always interested in hearing your stories and seeing your historical pictures of the sisters.  If you have a story to share or some images related to our Lady Liberty Sister please use our online form to submit your data.  We appreciate your assistance in keeping this site as complete and up to date as possible.