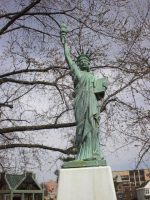 Schenectady is a city in Schenectady County, New York, United States, of which it is the county seat. As of the 2010 census, the city had a population of 66,135.
Population: 65,902 (2013)
Area code: Area code 518
Like the original the Schenectady Sister has an island home.  Created by the intersections of State, Washington Ave and Highway 5 this island is filled with flower beds, shade trees, small hills and wandering walkways.  She sits proudly in the center atop a pedestal contained in an eleven point start planter.
We have not visited this site and we would be grateful for any images and/or information about the history of or the current status of this sister.  Please use our online form to submit your information.