W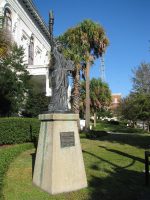 ilmington is a port city and the county seat of New Hanover County in coastal southeastern North Carolina, United States. The population is 112,067; according to the 2010 Census it is the eighth most populous city in the state.
Population: 112,067 (2013)
Area code: Area code 910
Sitting on the south west corner of the city hall property just off Business Highway 17, she resides among the palm trees.
PHYSICAL LOCATION:
Wilmington City Hall Front lawn, northeast corner of Third & Princess Streets Wilmington, North Carolina
N34 degrees 14.218 W 077 degrees 56.760 or
We have not visited this sister and have no images or stories.  If you have any information relating to the Wilmington sister please use our online form to submit your information.  We appreciate any and all contributions that help us keep our site current with the most accurate information.