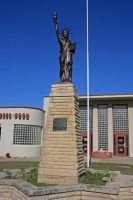 Blackwell is a city in Kay County, Oklahoma, United States, located at the intersection of U.S. Highway 177 and State Highway 11 along Interstate 35. The population was 7,092 at the 2010 census.
Population: 6,944 (2013)
This sister faces the west from within her eleven point star base.  She stands atop a tall stone pedestal and appears to be in very good condition with her crown points all in place.  It appears she has had some attention paid to her exterior suggesting that she has been refurbished.
We have not visited this site and we would be grateful for any images and/or information about the history of this sister.  Please use our online form to submit your information.