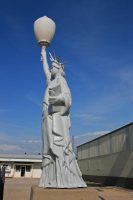 Lindsay is a city in Garvin County, Oklahoma, United States. The population was 2,889 at the 2000 census.
Population: 2,807 (2013)
This sister occupies a prominent position within the Veterans Memorial located in the median of N Main St where it intersects with E Cherokee, in front of the city's Chamber of Commerce building.  She stands on a three foot pedestal surrounded by shrubs and seasonal flowers with a square brick base.  Her skin has been coated with some type of heavy sealer (maybe plaster) and her torch replaced with an electric lamp.  The American flag is proudly flown just behind her.
We have not visited this sister and as such we have no gallery images or stories to share.  The image used in this page was originally posted to passbagger.org as one of the stops on the Boy Scout Tour of Honor motorcycle trail by an unidentified contributor.  If you have either images and/or stories related to this sister please use our online form to submit your information.  We appreciate all contributions that help us keep this site as complete and accurate as possible!