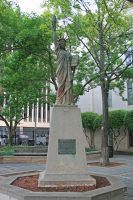 Oklahoma City is the capital of the U.S. state of Oklahoma. It's known for its cowboy culture and capitol complex, surrounded by working oil wells. The reflecting pool and empty glass and bronze chairs of the Oklahoma City National Memorial recall the victims of the 1995 bombing of the Alfred P. Murrah Federal Building. The Survivor Tree, an American elm nearly destroyed in the attack, is also part of the memorial.
Population
:
610,613 (2013)
This sister is nestled in among the shade trees on the west side of the county court house in Oklahoma City.
We have not visited this sister and as such we have no gallery images or stories to share.  The image used in this page was originally posted to passbagger.org as one of the stops on the Boy Scout Tour of Honor motorcycle trail by an unidentified contributor.  If you have either images and/or stories related to this sister please use our online form to submit your information.  We appreciate all contributions that help us keep this site as complete and accurate as possible!