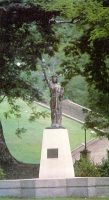 The Panama Canal is a man-made 48-mile waterway in Panama that connects the Atlantic Ocean with the Pacific Ocean. The canal cuts across the Isthmus of Panama and is a key conduit for international maritime trade.  The canal was built by the United States and later turned over to Panama over the objections of many Americans.
Navigation authority
:
Panama Canal Authority
According to Charles S. McElroy's article, "Lady Liberty: Symbol of lasting freedom finds a new home," Tropic Times 12 July 1999; Stuart G. R. Warner, former Archivist, U.S. Army South (USARSO), Fort Clayton, electronic communication with author dated 14 July 2000 as cited in Guarding the Gates – The Story of Fort Clayton-Its Setting, Its Architecture,
and Its Role in the History of the Panama Canal:
The final element added to Jarman Field, at the park entrance, was a miniature replica of the Statue of Liberty. The 7.5 ft statue was presented to the Panama Canal Zone Boy Scout Council by Morris Hoffman, a scouting enthusiast, in May 1951. Originally displayed at the Canal Zone library, the statue was later moved to a main intersection near the Balboa Police  Station.

Still later it was moved to the foot of the Administration Building in Balboa, where on several occasions it was vandalized during anti-U.S. demonstrations preceding Operation Just Cause. From there the statue was removed and put into storage until 1991, at which time it was put on display at the corner of Morse and Craig Avenues. In 1999, in preparation for base closure activities, it was determined that the Statue of Liberty replica would be relocated to the grounds of the residence of the U.S. Ambassador to the Republic of Panama in La Cresta, Panama City. This transfer was completed in July 1999.
Clearly this sister has been shuffled around some!  We cannot locate her using Google Earth.  Seems there should be some pretty interesting history behind her travels.  We would love to hear about them and we welcome any pictures, new or old, of the sister in her various homes.  If you can provide any information about her please use our online form to submit your information.  We appreciate the assistance in keeping our site up to date and as accurate as possible.