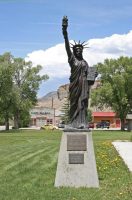 The Town of Kremmling is a Statutory Town in Grand County, Colorado, United States. The town population was 1444 at the 2010 United States Census.
Elevation: 2,229 m
Population: 1,390 (2013)
We have not visited this location and do not have any imagery of her.  If you can assist please submit your images and any other information via our online form.