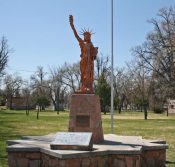 La Junta is the Home Rule Municipality that is the county seat and the most populous municipality of Otero County, Colorado, United States. The city population was 7,077 at the 2010 United States Census.
Population: 7,079 (2013)
Zip code: 81050
We have not visited this site and need imagery and stories from the area.  If you would like to submit photos or stories please use our online form.