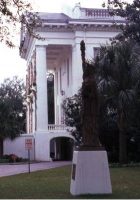 Tallahassee is the capital of the U.S. state of Florida. It is the county seat and only incorporated municipality in Leon County, and is the 126th largest city in the United States.
Population: 186,411 (2013)
We have found a few images on line from 1968 and 1969 that confirm that there was once a Liberty Sister positioned in the front of the State Capital building in Tallahassee.  We have no idea what has happened to her and would be interested in your stories about and pictures of her.  If you have a story or photo to share you can submit your information using our online form.