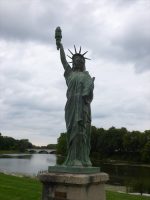 Le Roy is a village in Genesee County, New York, United States. The population was 4,391 at the 2010 census. The Village of Le Roy lies in the center of the Town of Le Roy at the intersection of Routes 5 and 19.
Population: 4,337 (2013)
She sits within her eleven point star base across the street from the library along the bank of the  Oatka Creek impoundment area.  She faces west from her pedestal.
We have not visited this site and we would be grateful for any images and/or information about the history of this sister.  Please use our online form to submit your information.