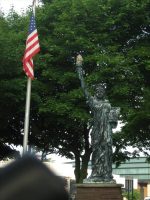 Niagara Falls is a city in Niagara County, New York, United States. As of the 2010 census, the city had a total population of 50,193, down from the 55,593 recorded in the 2000 census.
Population: 49,468 (2013)
The Niagara Falls sister sits in a wooded island created by the intersections of Main, Niagara and Rainbow Blvd, just before the entry to Rainbow Bridge over the Niagara River.  There is parking on the east side of Rainbow Blvd with cross walks at both end of the block to allow access to her island.  From the images we have located it appears that she is in need of some repair.
We have not visited this site and we would be grateful for any images and/or information about the history of this sister.  Please use our online form to submit your information.