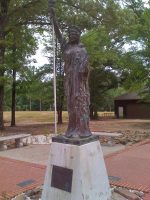 Wright City is a town in McCurtain County, Oklahoma, United States, along the Little River. The population was 848 at the 2000 census.
Population: 754 (2013)
This sister was originally located in Paris, Texas.  It was relocated here in 2007.
From Lifestyles magazine, Dierks Boy Scout Camp 'Liberty Circle' dedication set Oct. 6
By NeTseO Trails Council
Oct 5, 2007 :
What began as the lifelong dream of a man whose name will always be synonymous with the finest Scouting has to offer is now a reality.

The NeTseO Trails Council, Boy Scouts of America announces that the "Liberty Circle" project at Camp Dierks Boy Scout Camp near Wright City, Oklahoma is complete and the dedication has been set for Saturday, October 6 at 2:00 p.m. at the camp. 
also
The "Circle" centers around a scale model of the Statue of Liberty, which is one of only 16 presented to various members of Congress and/or state governors in 1951.  This particular Lady Liberty was presented to the Scout Council by then-U.S. Congressman and House Speaker Sam Rayburn of Bonham.  The area surrounding the statue includes four flagpoles (for U.S., Oklahoma, Texas and Boy Scout Council Flags) inside individual circles, enclosed by a larger circle, all interconnected with a pathway of bricks. 
The bricks mentioned above lead, from all four directions, to the base of our Liberty Sister.  Each brick contains the name of Eagle Scouts, Silver Beaver Award recipients and Vigil Order of the Arrow members from the council.  You can read the entire article here.
We have not visited this sister and as such we have no gallery images or stories to share.  The image used in this page was originally posted to passbagger.org as one of the stops on the Boy Scout Tour of Honor motorcycle trail by an unidentified contributor.  If you have either images and/or stories related to this sister please use our online form to submit your information.  We appreciate all contributions that help us keep this site as complete and accurate as possible!