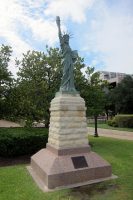 Austin, on the eastern edge of Texas Hill Country, is not only the state capital, but lays claim to being the "live music capital of the world." It's also a center for film and home to the University of Texas and Formula 1's Circuit of the Americas raceway. Its abundant parks and lakes are popular for hiking, biking, swimming, boating and other outdoor pursuits.
Population: 885,400 (2013)
Area code: Area code 512
Elevation: 149 m
Our sister in Austin adorns the western walkway on the north side of the state capital building.  Her pedestal is a combination of polished granite and limestone block and mortar.  It rises to a height of at least six feet.  She appears to be in pretty good shape with all of her crown points in place and a beautiful natural copper color patina.
We have not visited this site and we would be grateful for any images and/or information about the history or current status of this sister.  Please use our online form to submit your information.  We really appreciate any and all assistance we can get on this!