Kenosha is a city in and the county seat of Kenosha County, Wisconsin, United States. Kenosha lies on the southwestern shore of Lake Michigan.
Population: 99,889 (2013)
This sister occupies the center of tree filled Civic Center Park just north of Reuther Central High School at Sheridan and 57th.  She reigns over the park from within her flower filled eleven point star planter base.  Her pedestal and base are made of natural stone and mortar.
Statue of Liberty in miniature was built in the center of Civic Center Park to commemorate the 100th Anniversary of Kenosha, Wisconsin incorporating as a city.
N42degrees 35.043 W 087degrees 49.366
This photo is credited to: John Margolies Roadside America photograph archive (1972-2008), Library of Congress, Prints and Photographs Division.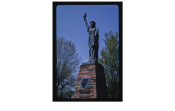 https://www.loc.gov/resource%20Credit%20line:%20John%20Margolies%20Roadside%20America%20photograph%20archive%20(1972-2008),%20Library%20of%20Congress,%20Prints%20and%20Photographs%20Division.%20/mrg.01988/
Update: as of 2003: It is stated the the statue is located Town Square in Kenosha, WI
We have not visited this site and we would be grateful for any images and/or information about the history of this sister.  Please use our online form to submit your information.  We really appreciate any and all assistance we can get on this!