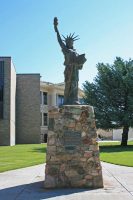 Torrington is a city in, and the county seat, of Goshen County, Wyoming in the United States. The population was 6,501 at the 2010 census. It is the home of Eastern Wyoming College, and is the surrounding region's center of commercial activity.
Population: 6,800 (2013)
This sister stands on the south west corner of the Goshen County Court House grounds.  She stands atop a five foot tall pedestal created from cut stones and mortar.
We have not visited this site and we would be grateful for any images and/or information about the history of this sister.  Please use our online form to submit your information.  We really appreciate any and all assistance we can get on this!